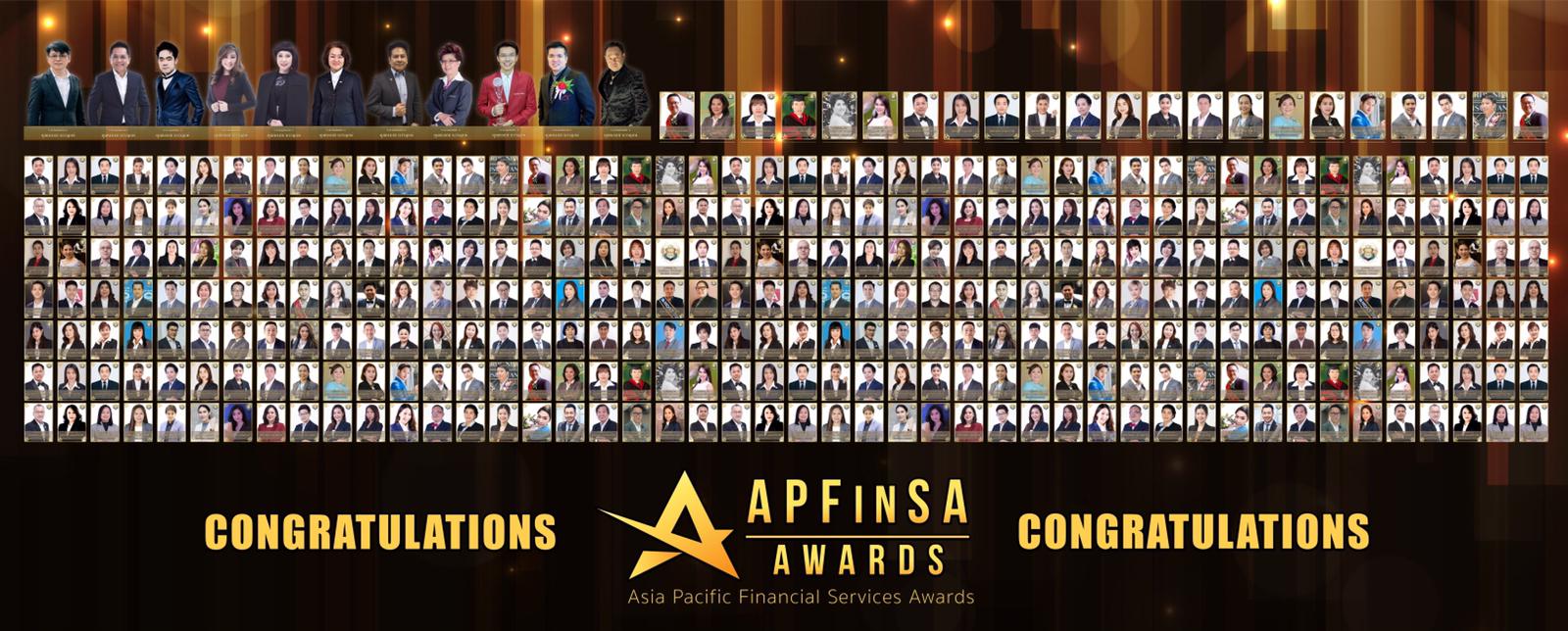 Congratulations To All APFinSA Awardees 2020!
We received an overwhelming response to our very 1st APFinSA Awards!  APFinSA, together with host member association THAIFA (Thai Association of Insurance and Financial Advisors), honours 1,600 winners for APFinSA Awards from across Asia Pacific, and celebrates their success in an awards ceremony being held in Bangkok, Thailand, on 25 August 2020. We wish all APFinSA Awardees who are the esteemed top producers in Asia Pacific great success with great achievements in their future ahead!
Mr. Banyong Witayaweerasak, the Chairman of the Asia Pacific Financial Advisors Association (APFinSA) said, "regarding the future of life insurance business in Asia, we have reason to believe that for the next 10 years, the world economy will be driven by the middle class in China, India and ASEAN. They are the largest market segment with enormous buying power. It is time for Asia to rise and to recognise our own Asian qualifiers and outstanding performers. The APFinSA Awards have been in the plans for the past decade. Discussion and decisions were delayed as we struggled to measure competencies among the Asia Pacific countries, due to different work environment, due to different costs of living and various challenges. In 2019, APFinSA together with its 9 member countries, were finally ready and passed the resolution to launch the APFinSA Awards. This was announced during the APLIC Congress in Hong Kong in 2019, and the 1st APFinSA Awards was to be hosted by host country, THAIFA from Thailand in 2020."
Inaugural Launch of APFinSA Awards
The Asia Pacific Financial Services Association (APFinSA) first launched its very own APFinSA Awards which aim to celebrate the endowment and recognition among over a million financial services professionals internationally along with the entire financial community across the Asia Pacific region. The APFinSA Awards showcase prestigious awards in the life insurance industry for top producers to be endorsed and recognised, not only in their respective countries but in the entire Asia Pacific.
The Awarding Body
The Asia Pacific Financial Services Association (APFinSA) is the largest financial services council in Asia Pacific, represented by 9 member associations across Asia Pacific region, namely Australia, Hong Kong, India, Malaysia, the Philippines, Singapore, Taiwan and Thailand. Established in 1991, we serve as the pre-eminent cross-border association to address the critical needs and opportunities of the financial advice profession in the region. APFinSA is also the organizer of the biennial Asia Pacific Life Insurance Congress (APLIC).
2020 APFinSA Award Winners
Certificate No.
Name
Award Name
Country
Endorsed by LUA
Company Name
AA2020-00001
APFinSA Award
Taiwan
IFPAT
三商美邦人壽保險股份有限公司
AA2020-00002
APFinSA Award
Taiwan
IFPAT
三商美邦人壽保險股份有限公司
AA2020-00003
APFinSA Award
Taiwan
IFPAT
三商美邦人壽保險股份有限公司
AA2020-00004
APFinSA Award
Taiwan
IFPAT
三商美邦人壽保險股份有限公司
AA2020-00005
APFinSA Award
Taiwan
IFPAT
三商美邦人壽保險股份有限公司
AA2020-00006
APFinSA Award
Taiwan
IFPAT
三商美邦人壽保險股份有限公司
AA2020-00007
APFinSA Award
Taiwan
IFPAT
三商美邦人壽保險股份有限公司
AA2020-00008
APFinSA Award
Taiwan
IFPAT
三商美邦人壽保險股份有限公司
AA2020-00009
APFinSA Award
Taiwan
IFPAT
中國人壽保險股份有限公司
AA2020-00010
APFinSA Award
Taiwan
IFPAT
中國人壽保險股份有限公司
AA2020-00011
APFinSA Award
Taiwan
IFPAT
中國人壽保險股份有限公司
AA2020-00012
APFinSA Award
Taiwan
IFPAT
中國人壽保險股份有限公司
AA2020-00013
APFinSA Award
Taiwan
IFPAT
中國人壽保險股份有限公司
AA2020-00014
APFinSA Award
Taiwan
IFPAT
中國人壽保險股份有限公司
AA2020-00015
APFinSA Award
Taiwan
IFPAT
中國人壽保險股份有限公司
AA2020-00016
APFinSA Award
Taiwan
IFPAT
中國人壽保險股份有限公司
AA2020-00017
APFinSA Award
Taiwan
IFPAT
中國人壽保險股份有限公司
AA2020-00018
APFinSA Award
Taiwan
IFPAT
中國人壽保險股份有限公司
AA2020-00019
APFinSA Award
Taiwan
IFPAT
中國人壽保險股份有限公司
AA2020-00020
APFinSA Award
Taiwan
IFPAT
中國人壽保險股份有限公司
AA2020-00021
APFinSA Award
Taiwan
IFPAT
中國人壽保險股份有限公司
AA2020-00022
APFinSA Award
Taiwan
IFPAT
中國人壽保險股份有限公司
AA2020-00023
APFinSA Award
Taiwan
IFPAT
中國人壽保險股份有限公司
AA2020-00024
APFinSA Award
Taiwan
IFPAT
中國人壽保險股份有限公司
AA2020-00025
APFinSA Award
Taiwan
IFPAT
中國人壽保險股份有限公司
AA2020-00026
APFinSA Award
Taiwan
IFPAT
中國人壽保險股份有限公司
AA2020-00027
APFinSA Award
Taiwan
IFPAT
中國人壽保險股份有限公司
AA2020-00028
APFinSA Award
Taiwan
IFPAT
中國人壽保險股份有限公司
AA2020-00029
APFinSA Award
Taiwan
IFPAT
中國人壽保險股份有限公司
AA2020-00030
APFinSA Award
Taiwan
IFPAT
中國人壽保險股份有限公司
The Life Underwriters Association of Hong Kong (LUAHK)
National Association of Malaysian Life Insurance and Family Takaful Advisors (NAMLIFA)
Insurance and Financial Practitioners Association of Singapore (IFPAS)
Insurance and Financial Practitioners Association of Taiwan (IFPA)
Thai Association of Insurance and Financial Advisors (THAIFA)